Skip to Content
Access Control and Door Systems in Dane County, WI
Access control systems offer businesses an easy and convenient way to manage entry in and out of their property. Mid-Wisconsin Security, Inc. installs state-of-the-art access control systems by Paxton, a leading provider of access control and door entry systems. These user-friendly products integrate seamlessly, allowing commercial business owners to install entry systems of all kinds. Contact us today to learn more about the convenience and safety of our access control systems. We offer installation for businesses all across Wisconsin.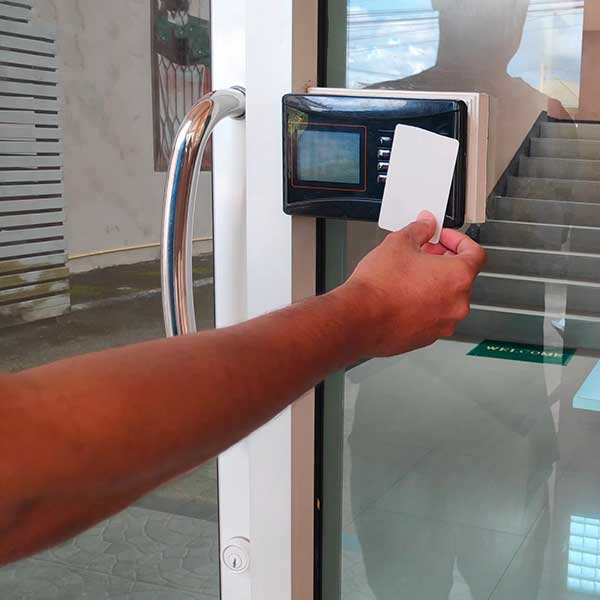 Access Control System Products and Parts
Paxton products have been providing flexible network and access control systems in buildings for over 30 years. Their expansive product offering includes components that provide a safe environment, protect company assets, and allow employees access when they need it. Products include:
Centralized PC management
Wireless access controls
Battery-powered access controls
Video intercoms
Apps
Card readers
Paxlocks
User-friendly software
Why Should Our Business Install an Access System?
Installing an access system on your commercial property provides many benefits for the property owners, employees, and visitors. With improvement to security, convenience, and expenses, you'll enjoy benefits, such as:
Providing ease of access for employees during and outside of business hours
Eliminating the need to carry traditional keys or change locks
Saving costs on security guards
Keeping tabs on who's coming and going from the building and offices
Protecting your company from data breaches or access to computers
Providing a safe working environment
Mid-Wisconsin Security Has a Solution for Every Industry
Whether your goal is to limit access, allow flexible entry for employees, or keep a history of who comes and goes, Mid-Wisconsin Security, Inc. has a solution to accommodate businesses in any industry:
Healthcare facilities
Government buildings
Education institutions
Churches
Small- and medium-sized businesses
It All Starts With a Free Estimate
The team at Mid-Wisconsin Security, Inc. has been installing professional security systems for businesses for over 50 years. Our knowledgeable staff takes a consultative approach to every project to learn about our customers' goals, concerns, and budget to recommend products right for them. Each job starts with a free estimate so contact us to schedule your consultation today.
Protect What's Yours! Call Mid-Wisconsin Security, Inc. Today to Get a Free Estimate